Our staff will provide you with an extraordinary rainforest adventure
We are available to make recommendations on things to do and to assist with arranging all tours, activities and excursions.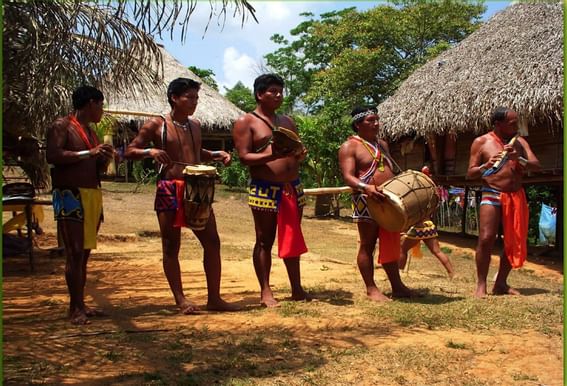 Emberá Community
Discover the roots of Embera and Wuanaan ethnic groups, two of the indigenous people who inhabit the isthmus of Panama, on the banks of the Chagres River. Just minutes away are the communities Ella Puru and Katuma, whose inhabitants will warmly welcome you, explain about their customs, lifestyle and culture, and give you a tour of the trails where their ancestors hunted.
Duration: 3 hours
Level of Difficulty: Moderate
What to bring: Comfortable clothing, walking shoes, insect repellent, water and camera.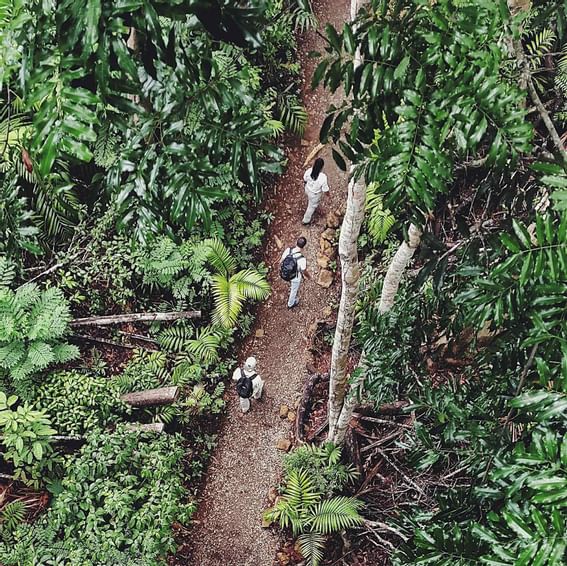 Hiking Trails
Hiking along the trails is easy. Large tropical trees, monkeys in their branches, much wildlife is evident, so bring your camera. Depending on the time of day and the season you may be fortunate to meet some of the capybaras, agoutis and iguanas that run freely between the leaves.
Duration: 20 minutes to 1 hour | Level of Difficulty: Easy to Moderate | What to bring: Hiking shoes, comfortable clothing, sunblock, water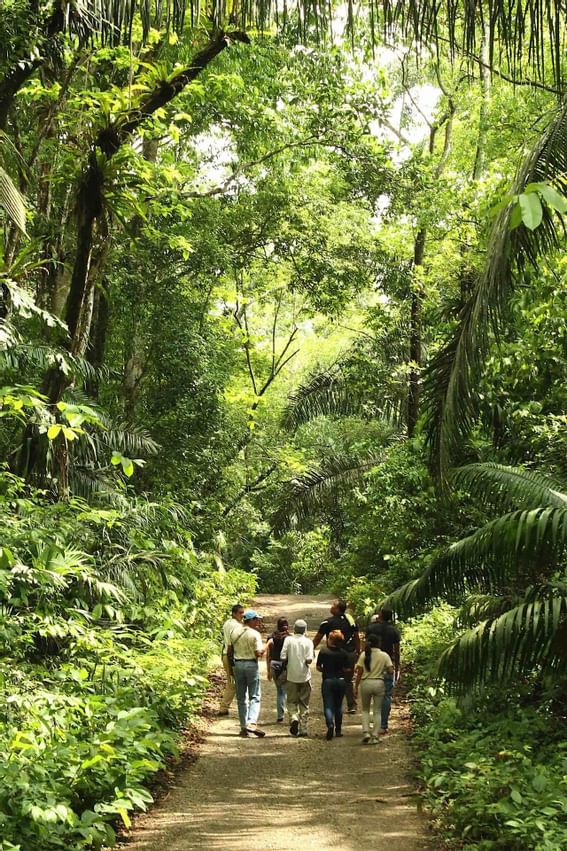 The Pipeline Road
Got its name in the 1940's as the Allies carved out this trail from the wilderness to accommodate a petroleum pipeline that was never finished. Today it is famous for hosting over 350 species of birds and is a favorite of the Audubon Society members. Here you are guaranteed to connect with nature and from the depths of the rainforest, you will discover its best-kept secrets on its 17 kilometers long: butterflies, amphibians, monkeys and dozens of other wild creatures.
Duration: 3 hours
Level of Difficulty: Moderate to heavy
What to bring: Comfortable clothing, hiking shoes, binoculars, water, insect repellent, and camera.
*Does not include $5.00 park fee.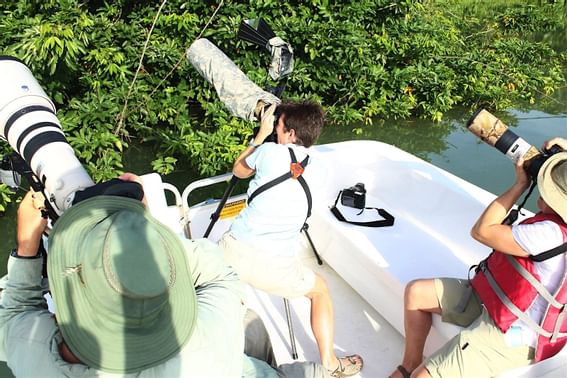 Birdwatching
A veritable ¨Birders Heaven¨, Panama offers some of the best bird watching in the world and is home to nearly 1,000 species of birds. This beautiful and very accessible country offers a great diversity of neotropical bird species. Excellent bird and animal watching locations can be easily accessed and a difficult and arduous hike is not necessary to find the animals. Choose from any of our three options for Birding tours: along the Pipeline Rd., in the Gamboa Reserve Grounds or by boat in the Chagres River and Gatun Lake.
Duration: depending on the tour
Level of Difficulty: easy to moderate
What to bring: Comfortable clothing, camera, binoculars, sunblock, insect repellent.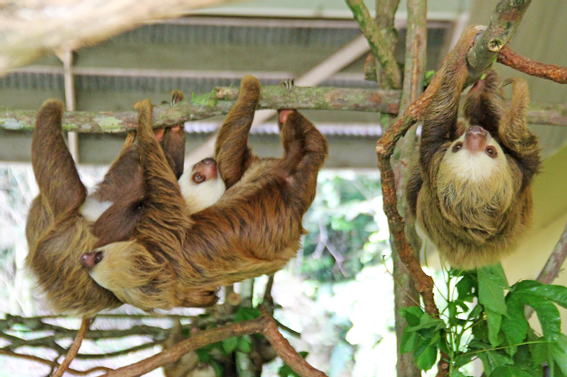 Sloth Sanctuary & Nature Labs
Begin the visit at the first Panama's Sloth Sanctuary where you will learn about the Conservation Program run by the Pan American Conservation Association for this species. If you are an enthusiast of the tropical rainforest flora and fauna, end the visit with various living laboratories where you can appreciate more than 15 species of butterflies, take a look at our curious Frog Pond and learn about native orchids.
Duration: 1.5 hours
Level of Difficulty: easy
What to bring: Comfortable cloth and shoes, sunblock, water, and camera.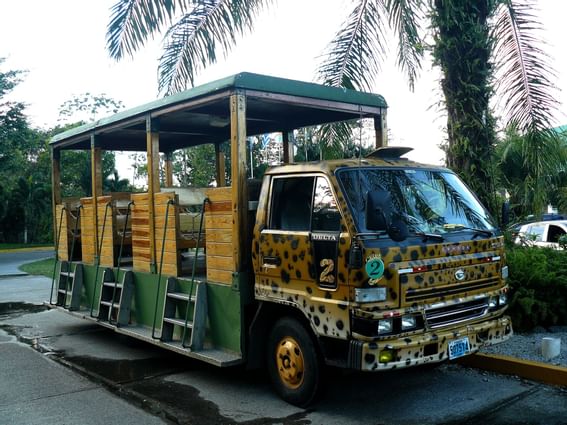 Night Safari Ride
Step aboard our "Chiva" truck for a safari-style ride around the reserve as a naturalist guide explains the nocturnal inhabitants and activities of the rainforest. This activity is complimentary with your stay.
Time: 30 minutes
Level of difficulty: easy to moderate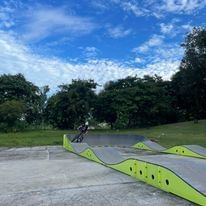 Bike Park
For Mountain Bike lovers. Mountain biking, downhill, pumptrak, cycling for adults and children of all ages. Develop your skills and abilities.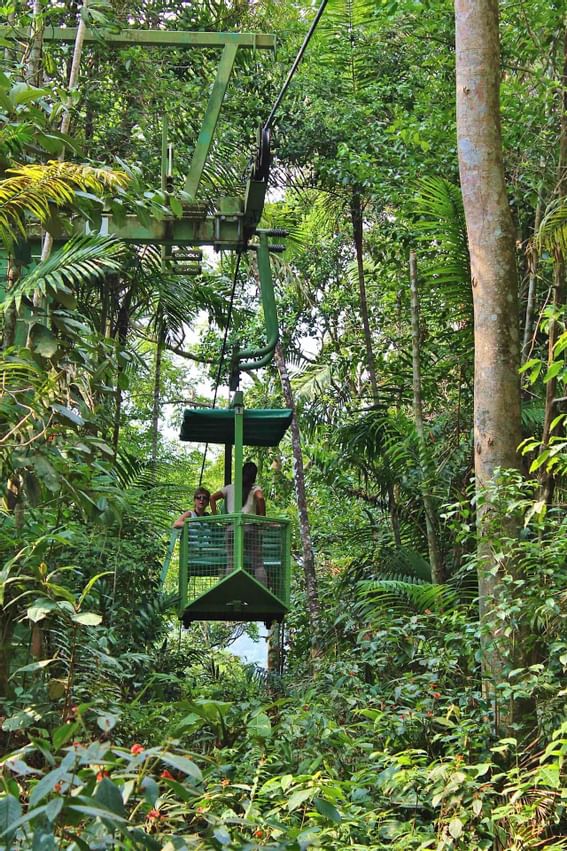 Aerial Tram
This cruise offers a unique perspective of wildlife, a journey of 600 meters aboard a gondola that rises above the rainforest to appreciating view points otherwise unachievable on the ground. At a height almost touching the treetops you will have the possibility to see a wide variety of birds that nest there, sloths, and several species of monkeys.
Aerial tram is closed for maintenance on Mondays.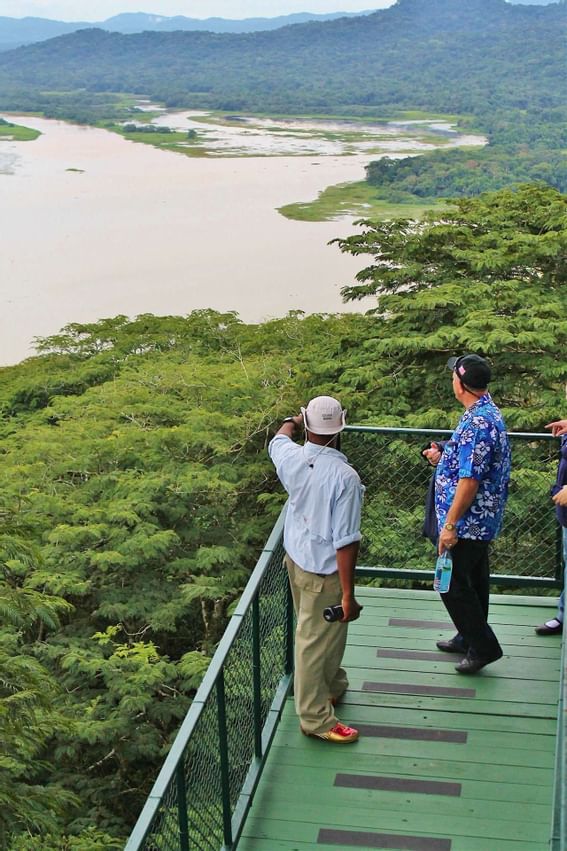 Observation Tower
At the end of the Aerial Tram tour, you will find an impressive 30-meter high observation tower made with ramps for easy wheelchair access. From the top, you can appreciate the privileged 360º-view of the Soberania National Park, the Embera indigenous communities nearby, and the famous intersection where the Chagres River feeds the Panama Canal and subsequently filling the Gatun Lake to ensure the passage of ships.
Duration: 90 minutes
Level of Difficulty: easy to moderate
What to bring: Comfortable cloth and shoes, insect repellent, water and camera.
CLOSED ON MONDAYS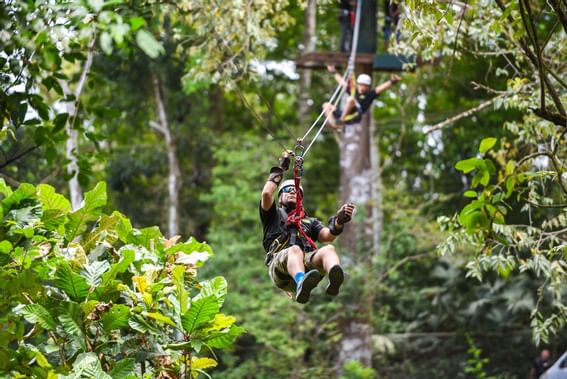 Tree Trek
Glide over the treetops of the tropical forest; admire the most incredible collection of natural landscapes that border the Panama Canal and the Soberanía National Park. Enjoy a different view of the Panama Canal and the Chagres River 1.4 kilometers from the extension divided into 10 cables. Appreciate the rich biodiversity of Panama among the treetops, being possible to appreciate with a little luck, monkeys, ñeques, birds like the Toucan Picoiris.
Canopy Zipline of 12 stations.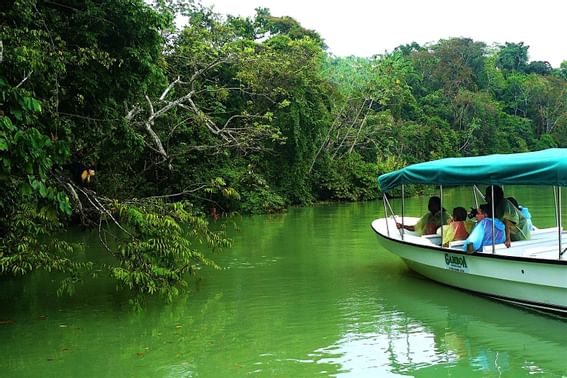 Gatun Lake and Panama Canal Expedition 
If you consider yourself an adventurer looking for a wonderful memory, this boat journey into the heart of Lake Gatun, the world's second-largest artificial lake, will be one of your favorites. In a tour that combines history and ecology, you will navigate through the Panama Canal to hidden islands where should conditions be favorable, you will see families of capuchin, howler and white-face monkeys.
Duration: 90 minutes
Level of Difficulty: Easy
What to bring: Sunglasses, sunblock, water, and camera.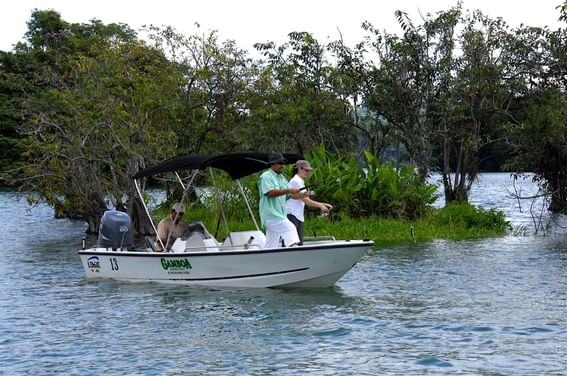 Freshwater Fishing
According to local legends, native language in Panama means "abundance of fish and butterflies", so you will not want to miss the opportunity to fish on its waters. The Gamboa Tarpon Club, strategically located at the point where the Chagres River connects Lake Gatun, is recognized for organizing fishing expeditions tailored to the Panama Canal, allowing you to choose between quiet locations in the middle of the rainforest and sectors where the passage of the giant ships passing through the waterway is appreciated. This lush area is home to species like the Sergeant, tarpon, snook, among others.
This tour includes: Tackle, bait, rods, snacks and refreshments.
Duration: 3 or 6 hours.
Level of difficulty: Easy to Moderate
What to bring: Sunblock, hat, camera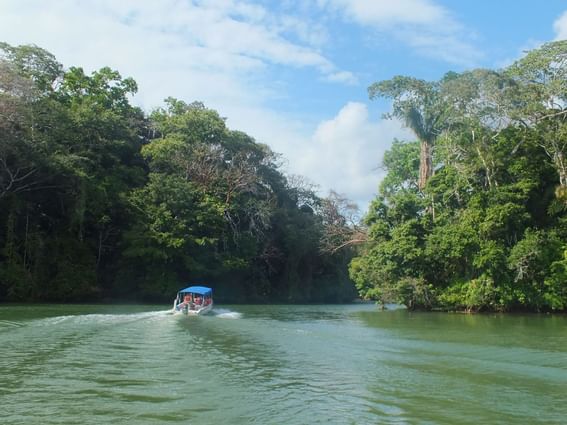 Chagres River Boat Tour 
This ride is an entertaining way to quickly learn many of the features of the Chagres River, one of the most important in the country, because it feeds the artificial lakes that allow the passage of ships through the Panama Canal. Its banks are central to the local ecosystem, harboring lush trees and beautiful flowers, hundreds of species of animals, insects and various indigenous communities of different ethnicities.
Duration: 40 minutes
Level of Difficulty: Easy
What to bring: Comfortable clothing, sunglasses, sunblock, and camera.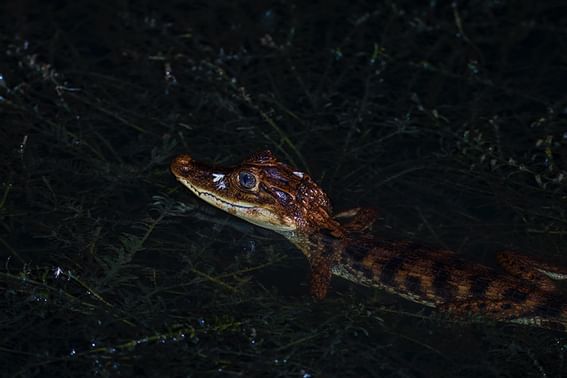 Night Safari Boat Ride
Indulge in the calm offered by the tropical forest at night and, by the reflection of the moon on the Chagres River, navigate through calm waters in search of birds and nocturnal animals. With the help of reflectors and flashlights, our guide will point out the places where caimans and crocodiles of all sizes usually hunt their prey. If you're lucky you can see their eyes shine with the reflection of the headlights and follow them as they swim down the river.
Duration: 1 hour
Level of Difficulty: easy to moderate
What to bring: Comfortable clothing, insect repellent and flashlight.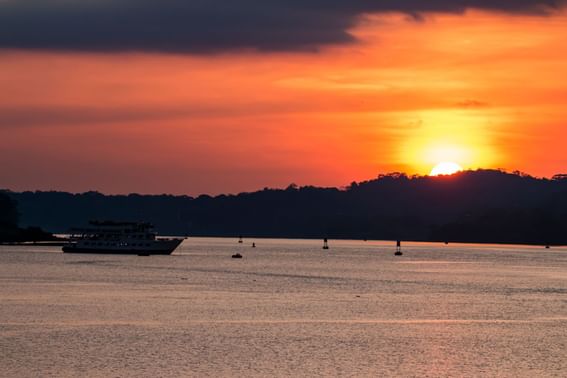 Sunset Boat Tour 
The earthen colors of the sunset on the Chagres River will provide an unforgettable closing to your day in the Rainforest. Here you will awaken your senses as you smoothly enter the tributary that feeds water to the Panama Canal, and which is home to many plants, animals and some indigenous communities. As the sun goes down, the pleasant golden light will allow you to witness the evening ritual of some of the many birds that nest in nearby trees and at that time go down in search for food. If you are lucky, you may find some sloths or agoutis looking for their lair before dark.
Duration: 1 hour
Level of Difficulty: easy
What to bring: comfortable clothing, repellent, camera.
Spa (Temporarily closed)
Our Sensory Spa is a place where spiritual and physical wellbeing take center stage. We invite you to relax and enjoy a wide variety of spa options in refined and well-appointed atmospheres. In addition to five private treatment rooms, spa amenities include a fitness center, sauna, steam room and Jacuzzi and a beauty salon. We can also arrange for a boat ride with a massage for two on the Chagres River.
For more information about the Spa,
please email or call (507) 314-5014.
View our Spa menu by clicking here.
Spa Appointments - Spa closed due to renovations.
For the best results, we suggest you arrive 20 to 30 minutes before your appointment in order to use the wet areas and be well prepared for your treatment.